We Are Diamond3
For nearly two decades, Diamond3 has been providing marketing and communication services to race car drivers, team owners, and corporations competing in the Top-3 Series of NASCAR. We carved our niche in this highly competitive industry by delivering on expectations and generating measurable results for our partners.
Whether you are a grassroots racer or a full-time Cup team, our tools will help you better position your property for sponsorship consideration.
Let us help you strengthen your image and develop the tools needed to better control your sponsorship destiny.

NASCAR Sprint Cup ~ NASCAR Xfinity Series ~ NASCAR Camping World Truck Series ~ K&N Series ~ Sprint Car ~ Modifieds ~ NHRA ~ Go-Kart
Quarter Midget Racing ~ Monster Truck ~ Professional Bull Riding ~ Porsche GT3 (former ROLEX Series) ~ Professional Indoor Football ~ Country & Bluegrass Music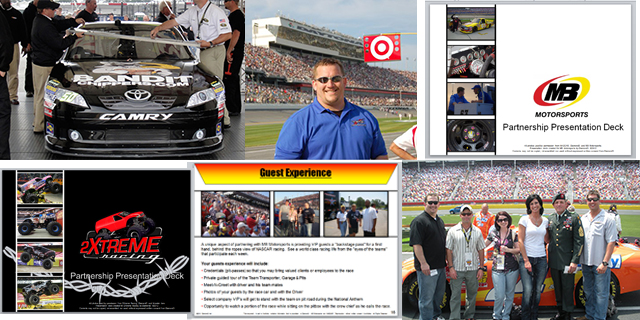 Marketing
Sponsor Presentations, Proposals, Team Budgets, Contracts, Hospitality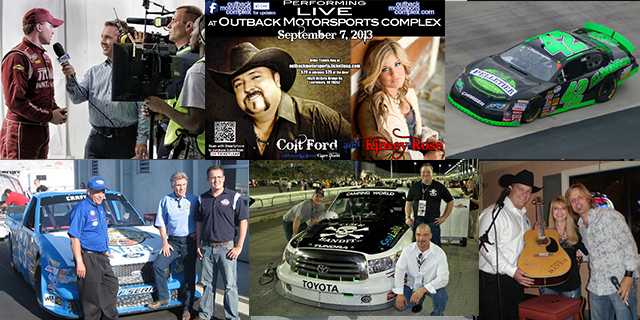 Communications
Public Relations, Social Media, Community Relations, Charity Support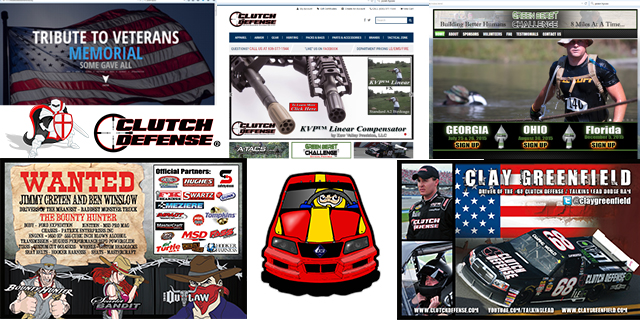 Website Design / Print
Website Design, Print Services, Paint Schemes, Logos
Our Pricing
Whether you need Driver Hero Cards designed and printed or a new Website built; we are here to get the job done. Our prices are very competitive and our quality is superb!
Contact us to discuss your unique program needs!
Business Cards

$19.99

/plus shipping (UPS)

500 Business Cards
Full Color Front & Back
14pt Gloss Coated Cover with UV
Prices Vary by Quantity/Stock
Multiple Paper Stock Available
Generally a 1 Week Turn Around
Driver Hero Cards

$449

/plus shipping (UPS)

2,500 pieces
Full Color Front & Back
14 pt Gloss Coat Cover w/UV
Prices Vary by Quantity/Stock
Multiple Paper Stock Available
Generally a 1 Week Turn Around
Sponsorship Development

$749

/starting at

Custom Marketing Tools:
PowerPoint Presentation
Sponsorship Proposal
Sample Contract
Team Budget Template
Presentation Consultation
Website Design

$500

/starting at

Professional Image
Small Business Focused
Create A Buzz
Increase Traffic
Drive Growth
Establish Online Credibility
Graphic Design

$75

/per hr

Flyers & Brochures
Direct Mailers
Hero / Autograph Cards
Letterhead & Envelopes
Team / Corporate Logos
3D Renders
DIY (Do It Yourself) Program
The most often asked question we get from parents, drivers and team owners is, "Can you help me write a sponsorship proposal?" Our answer, "YES WE CAN!".
We offer two ways to help your program. The first is a fee based twelve month personal service retainer contract. This contract consist of a monthly fee for twelve (12) months and a low backend commission on any sponsorship procured. The second is a onetime fee based DIY Template Service. We will create custom marketing materials built around you and your program that you may tailor to fit each of your prospective sponsors needs. This service is perfect for parents, drivers and small teams who need help putting together sponsorship presentations.

THE PROCESS:
Click on the "Buy Now" button below and checkout.
We will contact you by email to schedule a conference call to discuss your program.
EMAIL US your logo, photos and contact information.
We will create a "first draft" of your custom marketing & sales information packet, then email it over for your review.
We will make revisions based on your feedback.

Once the product is finished, we will email you the entire packet. The packet will include a PowerPoint presentation, a proposal overview, sample Press Release, team budget calculator and a sample contract. Once the packet is complete, we will teach you how to use it!
If you want 1st Class marketing materials that properly represent your program to prospective sponsors, helps you to maintain control of your leads and reduces your workload, then

A Few Of Our Partners: Past & Present
Clay Greenfield Motorsports
Procured sponsorship for the #68 truck to compete in NASCAR Camping World Truck Series races at Daytona, Martinsville, Bristol & Talladega.
Green Beret Challenge
Sponsorship consultant for this series. Developed by Special Forces "Green Berets" this is the most challenging obstacle race in America.
Pelletier's from The American Loggers
Featured as the Primary Sponsor on the #42 Car of Parker Kliegerman, the Pelletier Family of the hit TV show American Loggers came to race!
Time Bandit Crew from The Deadliest Catch
Featured on the hood TJ Bells #11 Toyota at Homestead-Miami, crew members of the F/V Time Bandit gave race fans something to cheer for!
Tribite To Veterans Memorial
This heartfelt project supports the Memorial Wall being built to honor the Gold Star Families of Warren County; WWI to present conflicts.
Warren County Fair
This website build helped the Fair Board put forth a stronger, cleaner online image while providing guests a better user experience.
AFLAC
We were first to bring AFLAC into NASCAR as a sponsor. B2B generated +$500K in sales & $1M in first run media all from just $5k investment.
2Xtreme Racing - Bounty Hunter/Scarlet Bandit
Developed marketing presentation, proposals and procured event sponsorship for this well known Monster Truck team.
Clutch Defense
Designed & maintain Clutch's E-Com website. Manage their marketing partnership with driver Clay Greenfield in the NASCAR Camping World Truck Series.
America's Most Wanted Racing
PR & sponsorship development for driver JR Patton in the Camping World Truck Series. Program promoted awareness of missing children & child safety initiatives based around the hit TV show on FOX.
Bandit Industries
Lead Bandit Industries into NASCAR as part of a B2B Partnership with the Pelletier Logging family. Program rewarded employees & distributors. Entertainment platform for current/prospective customers.
Seminole Tribe of Florida
PR & sponsorship development for the Seminole Tribe of Florida's debut in NASCAR. The Tribe sponsored Native American driver JR Patton in the NASCAR Camping World Truck Series.
Contact Us
Do you have a question about sponsorship, PR, websites or printing? Send us an email!